Easy Stage
EZI-FLOR'S Easy-Stage systems are an aluminium and timber constructed lightweight portable stage unit. The modules are locked together by a pin and slot system. Roto locks are used on stages over 900mm high, the locking systems make the stage very secure and stable, but allow erection and dismantle to be quick and easy. The modules are available with different surfaces and are very light to handle, weighing approximately 35kgs.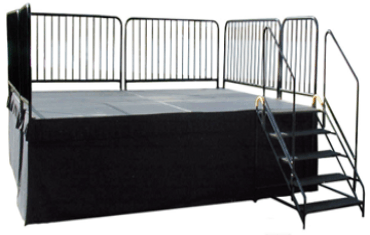 EZI-FLOR'S EASY-STAGE SYSTEMS - Certified 500kgs per square metre
EZI-FLOR Quality
- Surface Polyurethane or carpeted
- Easy-Stage unique Pin & Slot locking system
- Velcro fixed for skirting
- Caddies hold 10 modules
- Removable legs
Fold & Roll Stage
Ezi-Flor's Fold & Roll stages are Dual Height, 410mm / 610mm high and 2.4m x 1.8m also available in 1.2m wide with a carpeted surface. The stage setting can be done by one staff member saving time and money. When folded the stage module can be rolled into position or storage.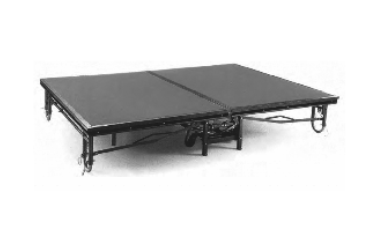 EZI-FLOR stage modules are very simple to use with no heavy lifting or carrying. When in position the stage module sits on 8 points and is very stable. The modules have connectors for a positive locking system when more than one module is being used.